Attention!
Processing time: Ships in 2 work days!
Because of certain online store system problem, the shipping fee may be unreasonable sometimes. DON'T WORRY, we will check each order and revise it. If you have paid the order, we will contact you and return the extra shipping fee to you later if it is unreasonable.
Any question or advice, leave messages to us.
1/2.5" 1.29mm 10Megapixel M12X0.5 mount 185degrees Fisheye Lens for 360VR, 4K fisheye lens for HD Sport Cameras like Gopro 3+/Gopro 4 HD camera

MODEL 1250129MPF (with 650nm IR filter)
IMAGE FORMAT 1/2.5"
MAX IMAGE CIRCLE Φ4.0mm
FOCAL LENGTH(mm) 1.29
FOV 185°(D)*185°(H)*185°(V)
RESOLUTION 10MP
APERTURE 2.5
MOUNT(mm) M12x0.5
IRIS Fixed
M.O.D.(m) 0.1
B.F.L.(mm) 3.03
M.B.F.(mm) 2.88
T.T.L.(mm) 33.35
LENS COMPOMEMT 6G + 1IR
DIMENSION(mm) Φ26.50x30.47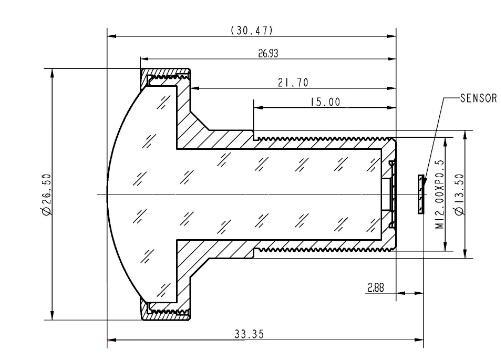 For more lenses, please feel free to contact us at sales01@megapixellenses.com; camera.lens@videolenssupplier.com